The King addressed a thank-you note to the nation as it prepares to pay a "final farewell" to Queen Elizabeth.
On the eve of the late King's funeral, King Charles expressed his gratitude to "all those countless people" who provided "support and comfort" after his mother's death.
In a written message issued by Buckingham Palace, he said: "Over the past 10 days, my wife and I have been deeply moved by the many messages of condolences and support we have received from this country and around the world.
"In London, Edinburgh, Hillsborough and Cardiff we have been touched immeasurably by all who took the trouble to come and pay their respects to serve my dear mother, the late Queen, for life.
The Queen lies in the state – latest news
Watch live: The Queen lies in the state
"As we all prepare for our final farewell, I simply wanted to take this opportunity to say thank you to all those countless people who have given such support and comfort to my family and myself at this sad time."
The King will lead the nation into mourning for its longest-reigning monarch on Monday while Westminster Abbey organizes a spectacular state funeral for Elizabeth II.
Two thousand people, including foreign royals, world leaders, presidents, and prime ministers will flock to the Gothic Church for a day of celebration, military parades and celebration in honor of the late queen.
Millions will watch from home and around the world, where the funeral could become the most watched television broadcast in history.
William, Harry, Leaked Pen and David Beckham unite: key moments in the ten days since the Queen's death
"Do you have marmalade?"
It was a busy time for the new king after his mother's death on September 8.
On Saturday, King Charles III and the Prince of Wales greeted cleaners in line to see the Queen's coffin lying in the state.
The King and his eldest son made an impromptu tour, shook hands and shared words of condolence, as they took a short pause from their schedules in the lead up queens Funeral on Monday.
Click to subscribe to Sky News Daily wherever you get your podcast
Hundreds of people in line for Lambeth, south London, cheered and applauded as King William appeared.
A woman holds a Paddington Bear as the new king dies, with the king commenting: "Have you got marmalade?"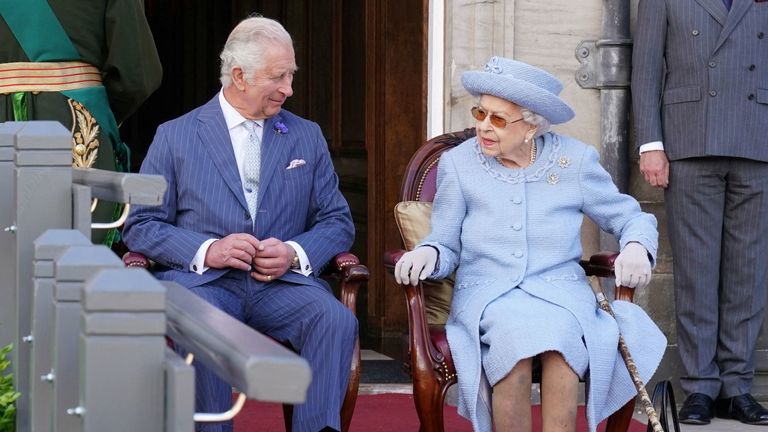 Read more about the Queen:
Prince Andrew Tribute to 'The Mummy'
A man has been charged after causing a 'disturbance' by lying in his condition
What is closed – and what is open – during the funeral
After the strike, the Princess of Wales and Queen Consort joined their partners for lunch with the Governors-General of the Commonwealth of Nations.
In a very emotional time for King Charles, he was also busy traveling to the United Kingdom, visiting all four corners of the Union.
Read more: Everything you need to know to watch the Queen's funeral