The timing of Andy Kiriakou's first move to Monster wasn't entirely perfect.
It was 2006, and the eligible Irish prostitute had just bought a new home in London, where he had been playing for the Arabs the previous two seasons. He and his wife were literally emptying boxes and bags when the call came from Limerick. Monster needed a prostitute on loan, and there was plenty of playing time on offer.
Starving for minutes at Saracens and with the Heineken Cup champions claiming him, Kiriakou had to seize the opportunity.
"I said, 'See you later' and we set off!" Kyriakou, who is now the coach of the new Monster striker, says after he was promoted from his position at the county academy.
He played for Münster in the Magner League and Heineken Cup in the 2006/2007 season, which was not outdated as they finished sixth in the league and were knocked out of the European quarter-finals by Scarlett.
However, the place was full of Irish rugby legends. Monster was among the crowns of the Heineken Cup. Kyriacou found the place welcoming but equally challenging. Ronan O'Gara, Paul O'Connell, Jerry Flannery, and colleagues. Setting high standards.
"One of the things that struck me immediately was the accountability of the players and how strong they were to each other in training, not accepting things that might have been accepted where I was," says the 39-year-old.
"It was just an exceptional learning experience. I got so many playing opportunities which is always great. I made lifelong friends. It was great to go back and reconnect with the people right away, the guys who are still in the game and the guys who left the game. It's a place Great. I had a great year."
Kiriakou played for Monster in the 2006/07 season.

Source: Dan Sheridan / INPHO
He returned to Surrey after that but then returned to Ireland with Ulster in 2009 – the same year he played for the Ireland A-team – and spent three more seasons on these shores.
"The sum of my four years here as a player, I just had the best time. What a great country. Irish rugby in general at the moment is in a great place."
His career ended with injury after joining Cardiff, where he moved straight into attacking training.
In 2015, he began an interesting experience as an attacking coach for Russia, a role that lasted for four seasons which he initially combined with working as a skills and skills coach for the Sale Sharks team.
"Not the language, I couldn't go deep into Russian very well," Kiriakou jokes about that spell.
He was in charge of defense and attacking at championship club Nottingham from 2018 until last year when he landed a job as a coach at Monster Academy under Ian Costello.
"Nottingham has been great for me in terms of my development, working with Neil Fox, who worked with Ian Costello the year before. Without knowing it, I was already getting an insight into what I was going to go through when I came and worked with Cossie. Working with Ian was excellent. throughout the past year."
Kiriakou and Costello took charge at the senior level for a short period last season when the main team in South Africa was suspended due to the Covid-19 outbreak. With a host of Irish internationals alongside new academy players, Monster beat the Wasps in December in the Champions Cup. It is an experience that Kyriacou thoroughly enjoyed.
Now he is with the first team on a permanent basis, with Graham Rowntree bringing him in to direct the attackers after being promoted to coach. Rowntree will continue to do a scrum and crash and Kyriacou is excited to work with "Wig".
Their mission is to make Monster Pack respectable and fearsome again. Somewhat similar to the days when Kiriakou first joined the province.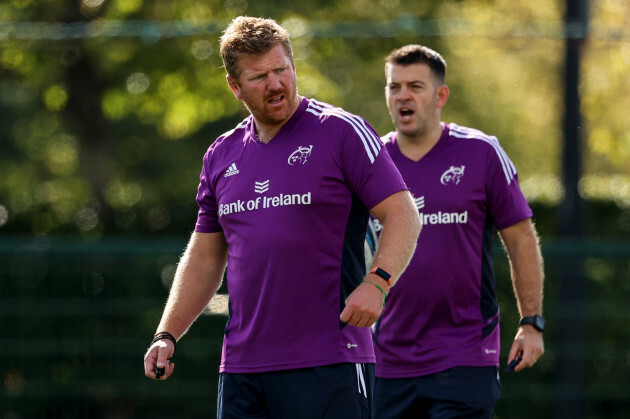 Kyriacou stepped out of the academy role.

Source: Ben Brady / INPHO
"We've had a very good relationship since last year and he's given me the freedom to go and do what I want to do, which is great," Kyriakou says of working with Rowntree.
"It's good to have that confidence. We talk a lot, he's very open and we all want that monster pack to move on and move on, and to get that fear factor back on."
Kiriakou says he enjoys working with fellow assistant coaches Mike Prendergast and Dennis Lemmy, too. He played with the latter during his time with Monster in 2006/2007 and played against Prendergast that year when the previous half was with Burgoyne.
"They are obviously very talented coaches, they have great ideas, and they are very driven in and around the non-negotiable things," Kiriakou says.
"That accountability is something we definitely need as they drive, they drive their zones at a knot rate and the boys are done with it, and the boys love it."
!function(f,b,e,v,n,t,s) {if(f.fbq)return;n=f.fbq=function(){n.callMethod? n.callMethod.apply(n,arguments):n.queue.push(arguments)}; if(!f._fbq)f._fbq=n;n.push=n;n.loaded=!0;n.version='2.0'; n.queue=[];t=b.createElement(e);t.async=!0; t.src=v;s=b.getElementsByTagName(e)[0]; s.parentNode.insertBefore(t,s)}(window, document,'script', '
(function () {
function consentYes() { fbq('consent', 'grant'); }
function consentNo() { fbq('consent', 'revoke'); }
function boot() {
var consent = CookieConsentRepository.fetch(); if (consent.targeting) { consentYes(); } else { consentNo(); }
fbq('init', '417668522941443'); fbq('track', 'PageView');
CookieConsentListener.onTargetingConsentChange(function(hasTargetingConsent) { if (hasTargetingConsent) { consentYes(); return; } consentNo(); }); }
boot();
})();