Ulster 36
contact 10
With the opening nights kicking off, this wasn't a bad show. The main guy got us back on stage after a year, a young invitee showed up again that he was comfortable under the spotlight, and then you had the unsung hero stealing the show.
No one would have expected that Tom Stewart would have said that about him before kick-off, but at the end of one night when Ulster Mole contributed four out of five attempts, Ulster Prostitute was awarded MVP, having earned one of those scores.
The good points didn't stop there. Jacob Stockdale is back in competitive rugby after a year of injury. He's done enough to suggest he get back to his best.
Looking at the end result, you could say the same about Ulster, but the win masks the fact that they were rusty. Yes, they outperformed Connacht five attempts to one; Yes, their scrum was better – bolstered by Marty Moore's brilliant head-on display – but a number of handling errors in the first half, along with a couple of slick streaks, reminded us that they were still a work in progress.
Despite this, the signs cannot be ignored. Both centers, Stuart McCluskey and Luke Marshall, did well—Marshall did some decent breaks before he got the experience he deserved, and McCluskey fitted a Larry Bird-style over the shoulder basketball pass.
It came in 29 minutes, breathing life into a game that desperately needed it. Even then, there was a lot of noise and puff but meager quality, Connacht showed great resilience in defense but a distinct lack of composure in the Ulster half.
And you can't just pin this failure to their back because there was also a crooked line and a couple of scrum penalties that messed up their notebook. None of the newbies were shocked in any way, but at the same time, no one was raising a hand to alert Andy Farrell to his credentials.
However, there will be a couple of Ulstermen who have made their case. Moore, who has long been ignored internationally, should be taken into account sometime soon and not just because he's good at it. Then there's Nathan Dock, the young guy. His attributes aren't just limited to his goal kick – he's fallen, incidentally, five out of six. He also has a pass, a break, a good boxer, a good defender, and when he had a chance to score, he took it.
Plus, there's a clever tactical mind in the process, as the youngster sacrifices himself to support captain Alan O'Connor's decision to go into the corner rather than the points before Marshall's attempt.
It was the smart call. Ulster Maul is known for efficiency and with O'Connor collecting Stewart's throw five meters from Connacht's line, a sense of inevitability ensued.
Tom Stewart with the Man of the Match award.

Source: Evan Treacy / INPHO
A lead was made up front, then with a penalty advantage, Duak took control, delivering a sharp pass to McCluskey who knocked out two defenders with a combination of brute force and soft hands.
Finally, the game has turned.
Within 15 minutes of the second half it's practically over, because so far two more Ulster attempts have been scored – each stemming from the near finish line, each seeing Stewart break the back of the kick to blast into the line, making him all the way with 37 for himThe tenth A minute of effort just before the break, and stop working shortly after the break.
It didn't matter because Doak was following along, and with 50 minutes on the clock it was attempt number three on the board for Ulster.
In response, Connacht was providing little, with a penalty for Conor Fitzgerald, the only result being until the final 10 minutes, the defining moment of their 56-minute match, when they failed in their attempts to cross the Ulster line with a series of strikes from five metres.
At this point it was 24-3 – a Doc penalty after halftime to add to Ulster's tally – but only one team would win.
Sure enough, with 63 minutes scored, they had their fourth attempt, Stuart Moore with it, touching the right corner after a clever pass from Billy Burns. Later Callum Reid got fifth – hitting again on their launch pad but tonight's attempt belonged to Connacht, when they responded from outside of their 22nd team, David Hukshaw with a long leather pass to move them, before turning the loop to interfere again, and a pass in End inward to Caolin Blade who landed.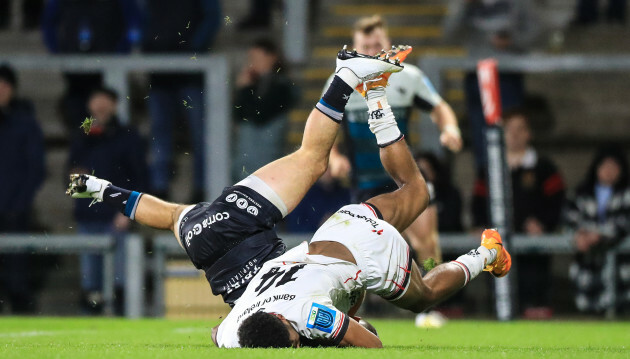 Source: Evan Treacy / INPHO
However, it was as good as Connacht. They need to improve quickly.
Top scorers Ulster
TryMarshall, Stewart, Doak, Moore, Reed
Transfers: Doak (4/5)
Penalties: Doak (1/1)
Connacht scorers
Try: blade
Transfers: Hokcho (1/1)
Penalties: Fitzgerald (1/1)
Ulster: Stuart Moore, Rob Balcon (Actor: Sexton 78), Luke Marshall, Stuart McCluskey (Actor: Angus Curtis 55), Jacob Stockdale, Billy Burns (Actor: David Shanahan 69), Nathan Duke (Actor: David Shanahan) Eric O'Sullivan ( Actor: Calum Reed '58), Tom Stewart (Actor: John Andrew 60), Marty Moore (Actor: Jeff Toumaga Allen 65), Alan O'Connor (CAPT), Sam Carter (Cormac Izuchocco '58), Matty Rea, Marcus Rea, David McCann (Actor: Jordy Murphy 58)
Connacht
: Tiernan O'Halloran (Alex Wootton '67), Byron Ralston, Tom Farrell (Representative: Alex Wootton 35-40), Tom Daly, John Porch, Conor Fitzgerald (rep: David Hawkshaw '49), Kieran Marmion (Representative: Caolin Blade '51), Peter Dooley (Actor: Denis Buckley '51), Dave Heffernan (Actor: Dylan Tierney-Martin '51), Jack Aungier (Actor: Sam Illo '57), Gavin Thornbury (CAPT), Leva Fifita (Actor ): Niall Murray '60), Josh Murphy, Conor Oliver (Representative: Shamus Hurley-Langton '41) Paul Boyle (Yellow Card 63-73)
Rule: Ohan Cross (IRFU)
!function(f,b,e,v,n,t,s) {if(f.fbq)return;n=f.fbq=function(){n.callMethod? n.callMethod.apply(n,arguments):n.queue.push(arguments)}; if(!f._fbq)f._fbq=n;n.push=n;n.loaded=!0;n.version='2.0'; n.queue=[];t=b.createElement(e);t.async=!0; t.src=v;s=b.getElementsByTagName(e)[0]; s.parentNode.insertBefore(t,s)}(window, document,'script', '
(function () {
function consentYes() { fbq('consent', 'grant'); }
function consentNo() { fbq('consent', 'revoke'); }
function boot() {
var consent = CookieConsentRepository.fetch(); if (consent.targeting) { consentYes(); } else { consentNo(); }
fbq('init', '417668522941443'); fbq('track', 'PageView');
CookieConsentListener.onTargetingConsentChange(function(hasTargetingConsent) { if (hasTargetingConsent) { consentYes(); return; } consentNo(); }); }
boot();
})();