On a night when neither team was particularly good, Ulster was the better team by far.
The rust of pre-season rust outed this derby, and while Dan MacFarland's side produced enough moments of clarity to fend off Connacht with ease, they could play better and still lose another day in the PKT United Rugby Championship.
Andy Friend's team has seen a lot of changes in the off season. A reconfiguration of the training structure plus seven new signings and it looked as if the team was still struggling to put it all together.
The Ulster's knowledge of themselves is proven to be the difference; A solid group proving possession and territory, and winners like Stuart McCluskey and Luke Marshall who can capitalize on that as they ran in five attempts in total to secure an extra point start to the season.
After a year on the sidelines, all eyes were on Jacob Stockdale's return, and while the Irish winger enjoyed some promising moments, it was Marshall who provided the spark in the first half when the match looked wet.
The 31-year-old had two horrific seasons of injury, making only four appearances each season, but was an occasional electrician in the first half, with three streak breaks, as well as the game's opening attempt. 27 minutes, before handing a backhand dump to Stuart Moore for bonus points an hour later.
The fourth attempt came on either side of attempts by Tom Stewart and Nathan Duak, and although the visitors responded with a Kaolin Blade separate score at 70 minutes, it was arguably the first and only moment in the match they looked really threatening.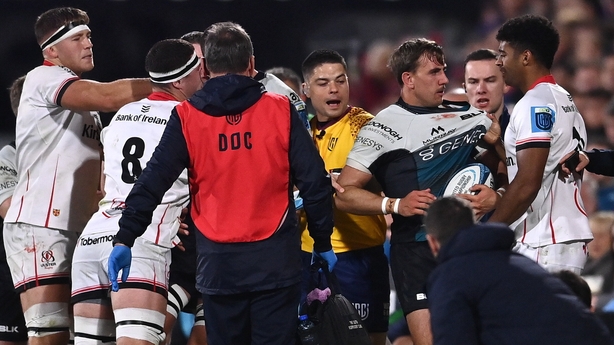 Early exchanges were as expected for the start of the season fare. Some of Connacht's promising midfield stages ended when they went into a rioting side to receive a penalty. A few moments later, Alster's tackle stopped by inches, as Moore hit the ball after a clever loop down the blind side.
They traded mistakes back and forth; Balcony hit a simple ball in his 22nd team, Connacht received a penalty from the resulting score, before Gavin Thornberry stole it again in the lineup that followed.
As the first quarter approached, the hosts created the most promising openings, the first via Marshall making his way through the Connacht center, but the opportunity did not materialize after Conor Fitzgerald imposed an intercept.
Soon, Stockdale's quick thinking put them back in attack, firing a superb 50:22 behind the visitors' defense to give his side a promising attack 20 meters from the attempt line. Once again, he was eliminated, as Connacht's defense imposed a penalty.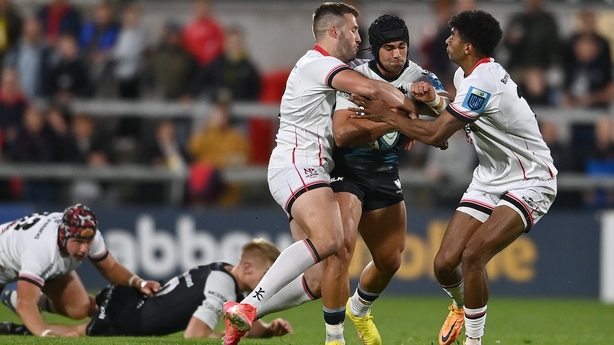 Finally, in the 27th minute, the game broke, and Marshall passed the first attempt at the game, even though the score was created by McCluskey's superb skill.
After Connacht received a penalty for a foul, the host side made a shot on goal in favor of a corner kick. And after winning an advantage from the resulting hits, McCluskey continued solidly in Connacht's defence. His run sucked up his counterpart Tom Daly's number, as Marshall broke through the gap, collecting his partner's center load with one hand to run under the poles.
Doak's conversion was a simple flick and a half-scrum-half was an easy 7-0 to make.
Ulster looked buoyed by the score, and they came close to a second attempt moments later when Marshall once again found a gap to slot into the 22nd, although this time Connacht's scrambling defense forced Stockdale to a knockout.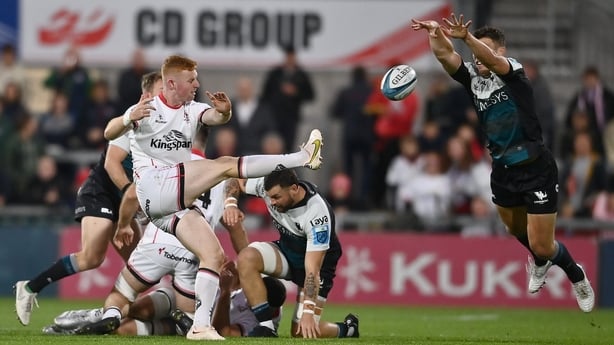 They didn't have to wait long to consolidate their lead, as Stewart scored in the 37th minute.
With a streak at Connacht 22, Ulster looked to form an onslaught, but after the bitch spotted the gap in the margin, stormed into space, and stepped inside the sliding Connor Oliver to dive again and announce his first county start with an attempt.
Doc's second conversion made it 14-0, but Connacht narrowed that difference before the break, and Conor Fitzgerald's 35-meter penalty made it 14-3 after Marcos Rea hit his feet.
Four minutes into the second half, Doak regained a 14-point advantage with a routine penalty, and Fitzgerald was pressured not to roll too far as the Ulster half made the score 17-3.
Connacht was on the wrong side of referee Eugen Kroos, as four early second-half penalties made him 11th in the night, leading to the score that killed the match in the 51st minute.
Looking as if it would match their second attempt, Stewart quickly broke the back of the hit before being stopped by short centimeters, but Doak was immediately to snipe over the line, turning his own score to make the score 24-3.
Connacht launched a short attack, venturing close to Ulster's line for the first time in the match, but when the home defense stood tall and imposed a penalty, it looked as if any chances of a comeback were dead.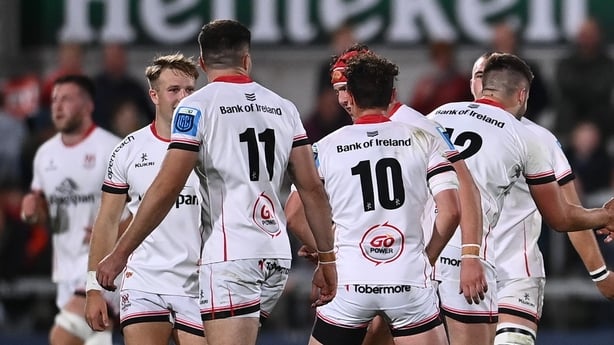 Moore confirmed it in 63 minutes with a bonus point attempt. It started with another penalty kick, as Connacht's Paul Boyle was sent into the sin box and after trying to catch and shoot from close range they moved away, Marshall darting in and throwing a pass behind his back to Moore, who slipped back to make it 29-3.
In the 70th minute, Connacht finally showed a glimpse of their quick attack, with David Hokshaw and Alex Wootton breaking the left flank before playing into Blade from the inside to run and dive.
Hawkshaw turned to reduce the score to 29-10, but they conceded again within five minutes, and backhanded Callum Reid replaced his header from close range to add to Ulster's lead, before Doak's fourth conversion made the score 36-10, and out. A solid if not amazing start to the hosts.
---
Ulster: Stuart Moore; Rob Balcon, Luke Marshall, Stuart McCluskey, Jacob Stockdale; Billy Burns, Nathan Duack; Eric O'Sullivan, Tom Stewart, Marty Moore; Alan O'Connor (Captain), Sam Carter; Matti Rea, Marcus Rea, David McCann.
Alternatives: John Andrew, Callum Reed, Jeff Toumaga Allen, Cormac Izuchocco, Jordy Murphy, David Shanahan, Angus Curtis, and Aaron Sexton.
Connacht: Ternan O'Halloran, Byron Ralston, Tom Farrell, Tom Daly, John Burch; Conor Fitzgerald, Kieran Marmion; Peter Dooley, Dave Heffernan, Jack Unger; Gavin Thornberry (captain), Leva Vivita; Josh Murphy, Conor Oliver, Paul Boyle.
Alternatives: Dylan Tierney Martin, Dennis Buckley, Sam Ello, Niall Murray, Shamus Hurley-Langton, Kaolin Blade, David Hokshaw, Alex Wootton.
Rule: Ohan Cross (IRFU)